Heat Sink Design & Validation
Gather project requirements & generate Excel design analysis
Heat Sink CFD & Optimization
Create CFD model to optimize design parameters
Prototype & Heat Sink Manufacturing
100% testing of prototype & mass-production heat sinks
Custom Heat
Sink Technologies
Copper/Water Heat Pipes
Heat pipes are ideal for transporting heat to remote heat sinks. Changes to shape, wick & wall thickness, wick porosity, and fluid loading are optimized for each heat sink design.
1-Piece Vapor Chambers​
Low-cost vapor chambers are cost comparable to multi-heat pipe heat sinks and allow Z-axis bending to form U-shapes. Dimensions up to 109mm wide, width to height aspect ratio up to 30:1
2-Piece Vapor Chambers​
Traditional vapor chambers can be stamped into any shape along the X and Y axes, have thru-holes, be embossed, and support different wick structures within the same device.
Specialty Two-Phase​
Machined vapor chambers allow multiple heat sources to be attached, while copper-methanol and aluminum-acetone heat pipes allow for low temperature and/or low weight.​
Phase Change Material​
PCM heat sinks are used to manage substantial yet short-duration spikes in either ambient temperature or device thermal load, eliminating the need for more expensive alternatives.
Thermal Straps​
Solves shock & vibration and thermal expansion issues by using flexible braids to separate evaporator and condenser mounting plates. Can be used with two-phase devices.​
Thermal Strap Technology
Difficult Heat Sink Design Challenges
We solve custom heat sink design & manufacturing problems associated with densely packed electronics, low/no airflow, high ambient temperatures, thermal budgets below 40 oC, and power densities up to 500 w/cm2.
Fast Response | Fast Turnaround
Celsia provides an unmatched level of customer support through quick responses to inquiries, 2-4 day heat sink validation after video call, 1-3 week CFD creation and optimization, and 6-8 weeks for both prototype and mass production heat sink orders.
Unrivaled Quality Control Standards
Mission critical and long-life product applications demand individually testing 100% of production heat pipes for leaks, burn-in, rated Q-max, and dimensional tolerances AND 100% of assembled heat sinks for dimensional and thermal resistance compliance.
Small to Mid Size Heat Sink Orders
Procurement, staging, manufacturing, assembly, and QC procedures tuned to support individual heat sink order quantities of 5-5,000 units per month for customers in the defense, telecom, industrial, and medical markets.
Popular Heat Sink
Calculator & Blog Pages
Custom Manufactured
Two-Phase Heat Sinks
Extruded Heat Sink
Pairing heat pipes or vapor chambers with extruded heat sinks offers a cost-effective and reliable two-phase solution.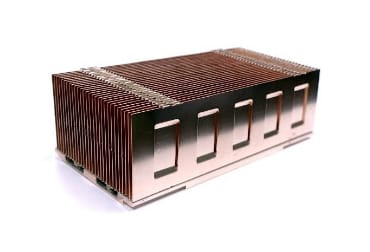 Zipper Fin Heat Sink
Allowing for very high fin density, these heat sinks are the most common performance choice for use with heat pipes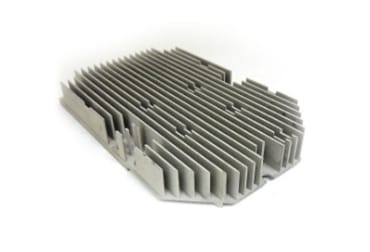 Machined Heat Sink
Offering the most design flexibility, and highest cost, CNC machined heat sinks are used when production volumes are small.
Skived Heat Sink
Heat sinks manufactured using this process have excellent thermal properties coupled with high fin aspect ratio and low tooling cost.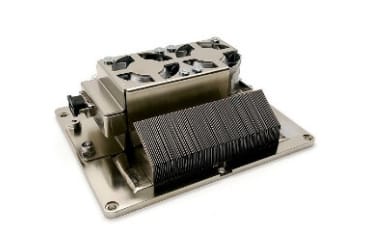 Full Heat Sink Assemblies
To streamline installation, complete thermal assemblies can come with attached fans, mounting hardware, and TIM material.
Heat Sink Oddities
When 'traditional' heat sink designs won't work, Celsia can provide square heat pipes, two-phase bricks, or vertical vapor chambers.